Founder and Artistic Director: Micah Hendler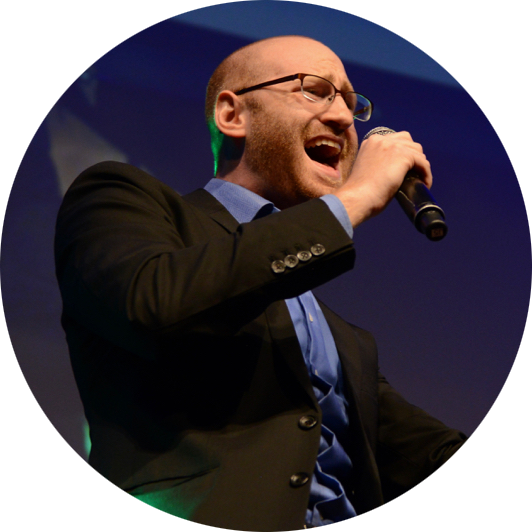 Micah Hendler (Forbes 30 Under 30 for Music) founded the Jerusalem Youth Chorus in 2012 as a synthesis of years of work in musical community-building and Israeli-Palestinian conflict transformation (including a Yale degree in music and international studies). He has founded, directed, sung with, or played with dozens of musical ensembles of varying global styles, including the Whiffenpoofs and Duke's Men of Yale. A CARA-nominated vocal arranger, he has studied Community Singing with Ysaye Barnwell and CircleSinging with Roger Treece, and uses these two methodologies and others to open up the concept of what a chorus can do and who should be in it. He has been involved in Israeli-Palestinian dialogue work for more than 15 years and has written and presented in many local and global forums about his work with the chorus, including sharing the keynote presentation of the East-West Philosophers' Conference with leading Palestinian intellectual and peacemaker Dr. Sari Nusseibeh, as they explored together how sound can be used as a tool to create shared spaces in Jerusalem. Micah has never been more in love with any ensemble than he is with the Jerusalem Youth Chorus, and is grateful to them for their dedication to the chorus and for their love of one another.
Executive Director: Amer Abu Arqub
Amer Abu Arqub is a Palestinian graduate of the Jerusalem Youth Chorus whom you may recognize as the rapper in many of our music videos. But in addition to his musical talents and eight years of JYC experience as a chorus participant, alumni coordinator, workshop facilitator, trilingual translator, songwriting leader, and video producer, Amer is a lawyer with an MBA focused on international organizational management. He is a facilitator at David Yellin College and a member of the Jerusalem Model, a network of young social entrepreneurs from East and West Jerusalem working together to address the city's diverse challenges. He is deeply passionate about bringing his chorus and professional experiences together to lead the Jerusalem Youth Chorus into its second decade—one in which he aims to embed the chorus further in the fabric of life in Jerusalem and equip our singers to be even bolder voices to bring about a more just reality for all who live in our city and our world.
Born and raised in Jerusalem, Hani Kreitem has built a career dedicated to music education and choral conducting. He teaches music theory at the Magnificat Institute of Music and also directs the Magnificat Choir of the Custody of the Holy Land. He also serves as a music teacher for the Ministry of Education in Jerusalem. Hani was a member of the World Youth Chorus and is currently a member of the international choir Common Ground Voices. He participated in the first Arab Choral Festival, ASWATUNA in Jordan, and received training from the Conservatory of Vicenza-Italy and numerous master-conducting courses. Hani holds a BA and MA in Music Education & Choral Conducting from the Jerusalem Academy of Music and Dance. He believes in the power that music has to bring people together and he is so excited to work with the Jerusalem Youth Chorus to spread this message.